Night Photography Guide
Night photography, also known as astrophotography, is technically not that difficult. If you pay attention to a few things, basically there are only 4 settings on the camera that you need for shooting the stars.
Since I have been asked several times for tips on taking photos of the starry sky and which settings on the camera are required for this, I will summarize them briefly here. Whether this results in a gigantic picture is of course in the eye of the photographer and enormously on the equipment, which is much more noticeable in night photography than in daylight photography. I will also give you tips on suitable lenses.
Actually, on my Kamchatka Photo Tour, I had hoped to be able to take great photos of stars in the volcanos of Russia. Our program was relatively flexible for shooting stars and it was actually cloudy once, and we prepare the trip to have a perfect moon phase: The moon was mostly hidden and it's perfect for photographing the Milky Way.
Free tip: think about the phases of the moon when planning a photo tour.
What settings do I use for night photography?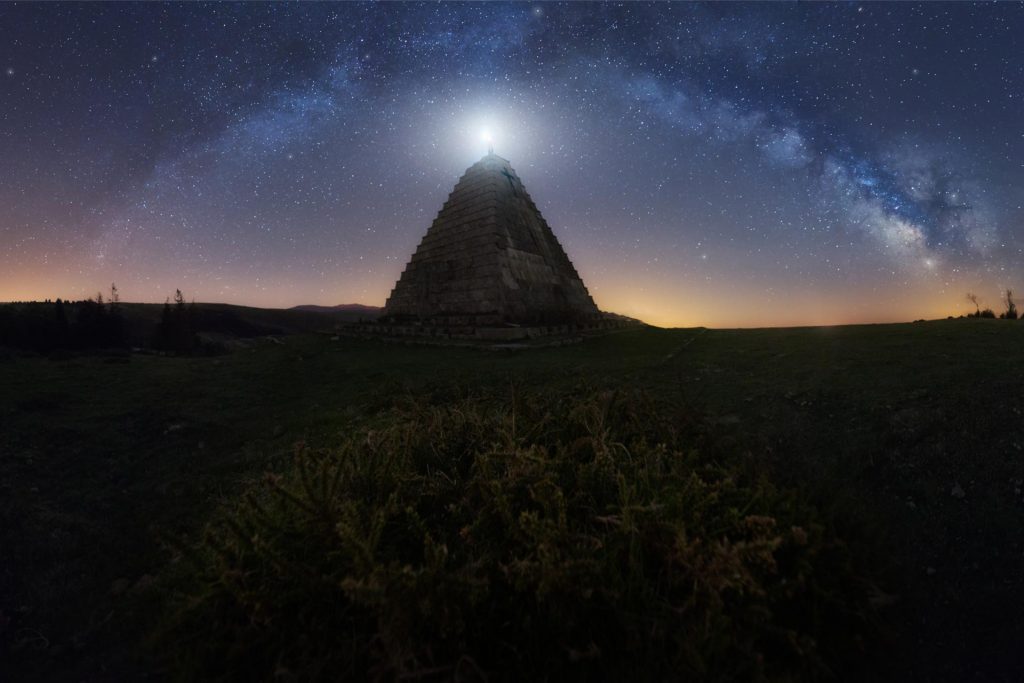 To take photos of stars, you need a camera that allows you to set the aperture, shutter speed, ISO, and manual focus. For example, a reflex camera or a mirrorless. For information on lenses and other equipment, see Section 4.
Use an open aperture

Use an open aperture (the smallest possible aperture number). A lot of light should come in.

Exposure time for the starry sky

Between 2 and 25 seconds. As long as possible is of course good if there is no other light source nearby. But be careful: If the exposure time is too long, stripes will appear because the wandering of the stars is recorded. The larger the focal length, the shorter the exposure time must be. With an 18 mm focal length, 20-25 seconds are taken, with 200 mm only about 2 seconds are possible. It's logical that a tripod is required for this. Please remember to switch off the stabilizer on the lens, otherwise your image will "wobble"!

Set ISO high

Of course, this is up to you to estimate the ISO from which your images become too noisy. My Nikon D750 has a relatively good (low) noise behavior, but I prefer to expose longer than set the ISO too high. I only work with ISO 1600 at most.

Set autofocus to OFF

You do this with a DSLR on the lens and with a system camera usually in the menu of the camera (with good lenses also directly on the lens) and focus on infinity, i.e. on the 8 lyings down.

The important tip here: The infinite focus decreases a bit at the stop, so the image becomes a bit blurred again. The actually infinite point is a bit before the stop and is different for each lens! I can see the blurring on my first photos from Russian Lapland when I was not familiar with the tip.

To get the perfect infinite focus, you can autofocus something very far away during the day or the moon and remember the spot on which your lens is positioned. On my Tamron lens e.g. I set it to about 2 mm from the stop.
And that's it when it comes to the basic technology for night photography.
Extra tips for Night Photography
Because I keep getting asked questions about night photography, the tip pool here has expanded a bit. So maybe you read a little further.
Use delayed release
If your photos are still blurry, you may not have used the remote control and the camera was shaking when the shutter was released. To avoid this, I always set the 2-second delay for the shutter release (in the self-timer menu), the camera is shaky sometimes even for 10 seconds.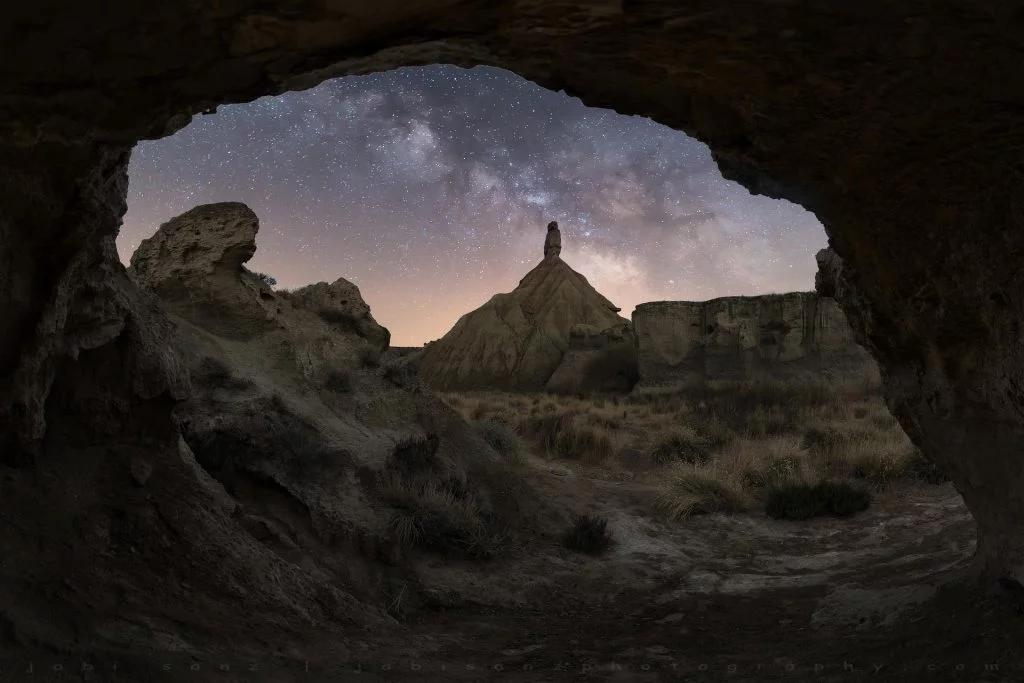 Pay attention to an interesting foreground
In my opinion, a pure star photo is boring as a star, unless you have great equipment and can do it as well as Jabi, David Aguilar or Hugo Valle, where you really lose your breath when you see the Milky Way.
With ground light sources you can also get great pictures, even if the sky is not as spectacular as in the Atacama.
Interesting mountains or the streaks of light from passing cars can also brighten up a somewhat boring starry sky.
You can then play with the exposure time and objects in the foreground and of course with the processing afterward.
Suitable equipment for star photography
Which camera is suitable for night photography?
Of course, you need a camera with which you can set the ISO, aperture, and exposure time; this is possible with a single-lens reflex camera (DSLR) as well as with a system camera.
Pay especial attention to fix the Chromatic Aberration, as it's more noticeable in night photography.
SLR cameras
I took a lot of photos with the "small" DSLR, the Nikon D3200, which was absolutely sufficient. I now work a lot with a Nikon D750.
Mirrorless cameras
I tried the Sony a7 III on a recent trip but the experience of Jabi is bigger in this case. He was using previous years a Sony a6500 and the results were amazing. If I should change my equipment now, probably this is now the perfect and small combination for me to photograph stars.
Special feature: So-called Star Trails can be easily photographed with most cameras nowadays.
Which lenses are suitable for night photography?
The lens should of course be bright. I actually took pictures of the stars with my Nikkor 14-24 2.8. If you are not particularly ambitious, you can do with f 3.5 lens, but you won't get a really good photo. An aperture of 2.8 is better, of course, an even larger aperture is even better, e.g. 1.8 or 1.4.
My first angular lens was the very cheap Sigma 14-24mm f4. And it didn't bring good results for night photography. But if you have a low budget there are lenses like Tamron that offer 2.8 and great results:
Canon & Nikon: Tamron 17-50mm f2.8 for Canon and Nikon *. There is also an unstabilized version a little cheaper. * Sony: The unstabilized Tamron AF 17-50mm f2.8 for Sony *
A top lens is the Sigma 18-35mm with a continuous aperture of 1.8 * with a really great imaging performance and incredibly beautiful bokeh. I tried it, but as so many users described it, I had a blatant misfocus and therefore sent it back.
If you should decide to buy this lens: Congratulations! But be sure to test it for misfocus immediately after receiving it. If you don't know how to do that, google for "front focus" and "back focus". I just took my lens for a walk and photographed an object at several f-stops and different focal lengths.
Tripods
Standard: Benro Travel Angel I
It doesn't always have to be expensive as hell. Back then, I decided on a cheap Benro Travel Angel I. It weighs about 3.9 lbs (1.76 kilograms) and is still very stable in the wind, which was important to me because I spend a lot outside. During an Iceland Photo Tour, you can visit windy areas to take photos, so it's something important. I screwed up the camera leg last year and couldn't simply reorder it. The tripod costs less than 200 dollars, is currently on offer, and has been serving me very well for three years till this moment.
Lightweight: The Manfrotto BeFree travel tripod, carbon
I was able to see the carbon version of the Manfrotto travel tripod at a workshop. It is actually the same tripod, has the same values ​​(load capacity up to 4 kilos, can be folded up to 40 cm), and weighs just 1.1 kilos – that's pretty terrific.
Protection against the cold
Most of the time, when the night sky is clear and beautiful, it's cold too. Rapid temperature fluctuations should be avoided for every camera and lens. Pre-cool your camera (and not to forget the lenses!). Let them in the backpack for a while before you take it out.
Nevertheless, it happens to me regularly that condensation forms on the camera and the lenses, which in the worst case can run between the camera and lens, or the lens steams up. In Iceland, I even had to break off a session. For my trip to the West of Russia, I ordered a protective camera cover* that not only protects against wetness but also against cold. In any case, always have at least one rag with you and a soft cloth for the lens, and remember that when you go in, the camera should be warmed up slightly again.
Best Night Photography Photography Tours
If you want to learn with us, check our next workshops where you can learn everything about night photography.