How to do travel photography?
When you come home after your trip, probably you are not happy with your photos, and see the same boring photos are millions of people are taking of his travels. Use this post to discover how to do travel photography to start taking better photos on your next photography tour!
Don't think about upload photos to Facebook. For now, let's concentrate to improve our photos. We will have time in the future to improve our gear, once we dominate the technique.
Also, if you want to do professional travel photography & improve your travel portrait photography skills, we have a post focus on that.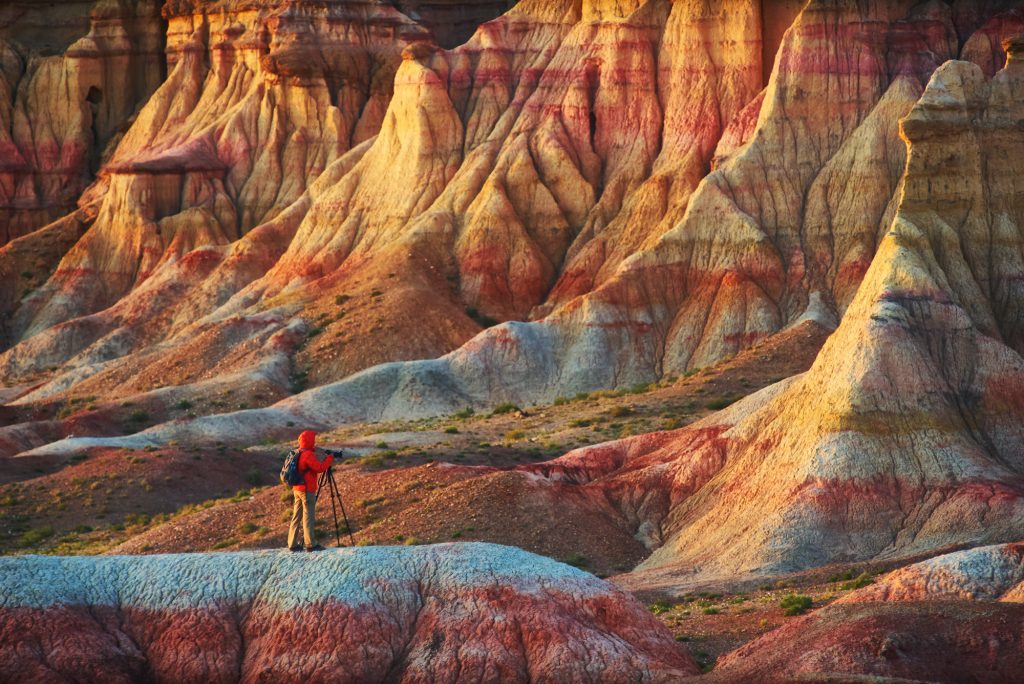 What is travel photography?
Travel photography is a genre of photography that involves almost all kinds of other photography genres as landscape, history, architecture, cultures… Its bases on the documentation of an area. The actual photography and travel style is influenced by historical works of National Geographic magazine or by photographers such as Steve McCurry and Sebastiao Salgado.
Joining a travel photography workshop is the best way to learn. All the tips for travel photography we can give you here are nothing compared to learn on-field. Anyway, it's good to know some of these tricks before your next trip.
Travel photography tips for beginners
KNOW YOUR CAMERA
Even if you have a smartphone or a DSLR camera, you need to know the possibilities of your camera first of all. Once you know it, you will know all that you can do with the tools you have. Read the instruction book of your camera is a good start at this point, even if it is afraid, we recommend you take a look before going out to capture your travel.
There is a lot of cameras & lenses you can find in the market, check our article with the best cameras for travel photography to choose the perfect model for you.
RESEARCH THE LOCATION
Before starting any trip, you should know what is the possibilities of the place you are going to visit. From Google Earth to professional photographer pages as 500px, passing from other websites like Instagram, Flickr, Facebook… you will find inspiration and new spots probably you didn't know. You do not need to find the best photos to copy, but you can always find ideas and places that you will want to visit during your travel.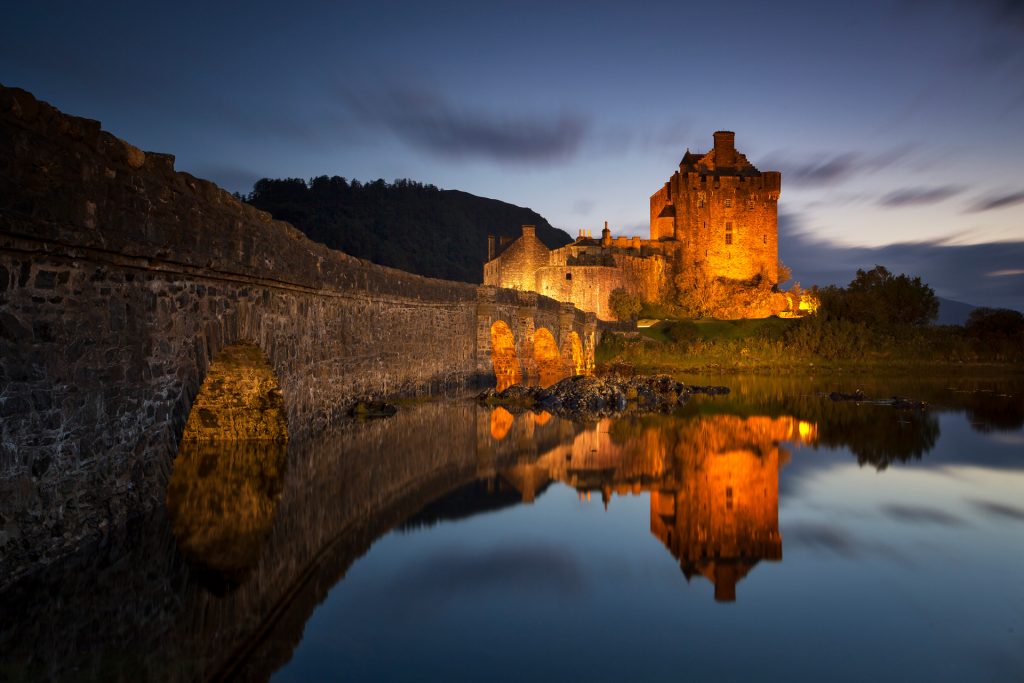 CREATE A MAP
A great idea before your trip is to use apps like Google Maps, to mark the places you found interesting. You can create a list for each trip you are planning, so you can easily see which routes you can do and prepare your tour according to your wishes.
Google Maps also will help you to move during the tour as a GPS, so with a few clicks, you can set up your mobile to bring you to the next destination, or to find close alternatives with spots you already found interesting.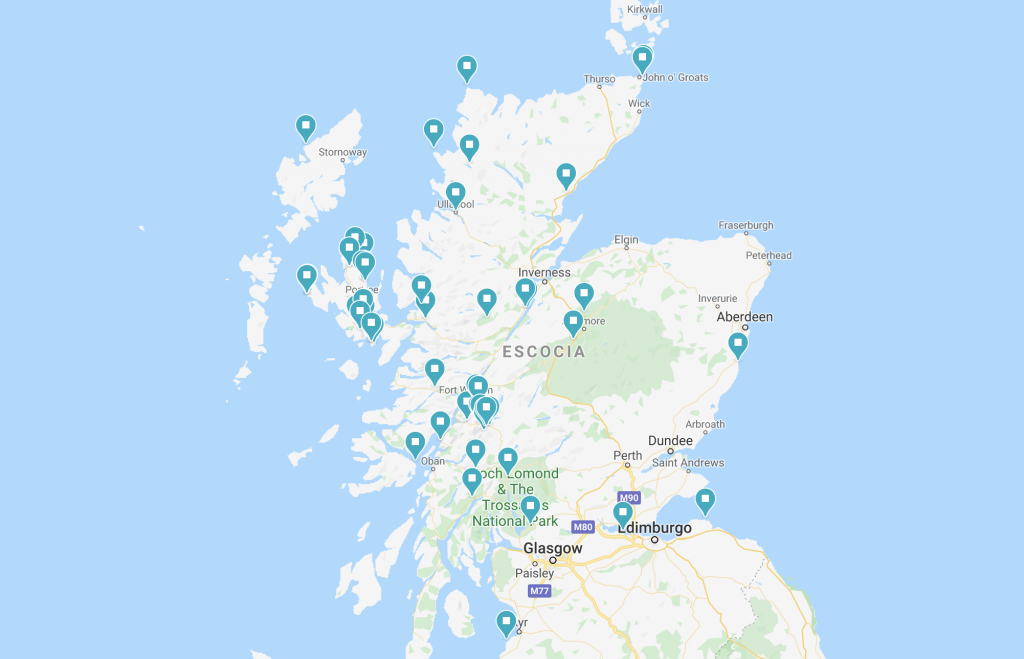 TRAVEL AS LIGHT AS POSSIBLE
Keep in mind to enjoy your travel, because if you are feeling good, your photos will show that. For example, a Vietnam Photography Workshop where you are constantly traveling around the country requires you to not carry heavy bags.
CHOSE THE CORRECT ACCOMMODATIONS
Keep in mind that even if you are not going to spend a lot of time at the hotel, having a good rest is important to enjoy the travel. And as we tell before, it's important your mood and feeling at the moment of taking travel photos.
If you're flexible with your hotel choice and budget, it's important to choose which is close to your spots for your next sunrise. Also, hotels in cities, hotels with great views it's a good choice.
GET UP EARLY
One of the main things for several reasons. During sunrises, you will get great lights and colors. Also in the cities, you will avoid the crow of tourists that usually visit the main spots, so you will get the perfect light and empty streets, or like in the example photo the perfect moment to use your model.
STAY OUT LATE
If getting up early isn't your thing, or you need to visit after the sunrise, another great option is to visit during the evening. Evening shots and cityscapes work great as you can enjoy them during our Dubai Photo Tour
BE PATIENCE
To capture photos of popular landmarks, sites, or destinations the main is being patience. Places such as museums or popular viewpoints are full of tourists during all times of the day, so you must keep your place and wait till the moment the group of tourists move and give you a clear view of your photo.
EXPLORE AROUND
Before we suggest you research the location, and probably you found amazing photos you will want to capture. Don't try to copy photos and make the typical postcards, be creative! Explore the locations and find a new point of view, use your creativity to make your photos personal and not a photocopy.
FOREGROUND, MIDGROUND & BACKGROUND
Did you take a photo of a majestic mountain, but when you look at your photo doesn't look like you were seeing at the moment?
This is because your photo is a bi-dimensional image, and you didn't give dimension to your photo. Use a foreground element and try to separate the elements in your image: foreground, midground, and background.
Also you can use the human factor, to give a real dimension to the scene as in the example below.
USE THE RULE OF THIRDS
This well-known photography rule still works in travel photography. Learn about the rule of thirds and after you can break it. Also if you need to crop your images think that other masters of photography made it before!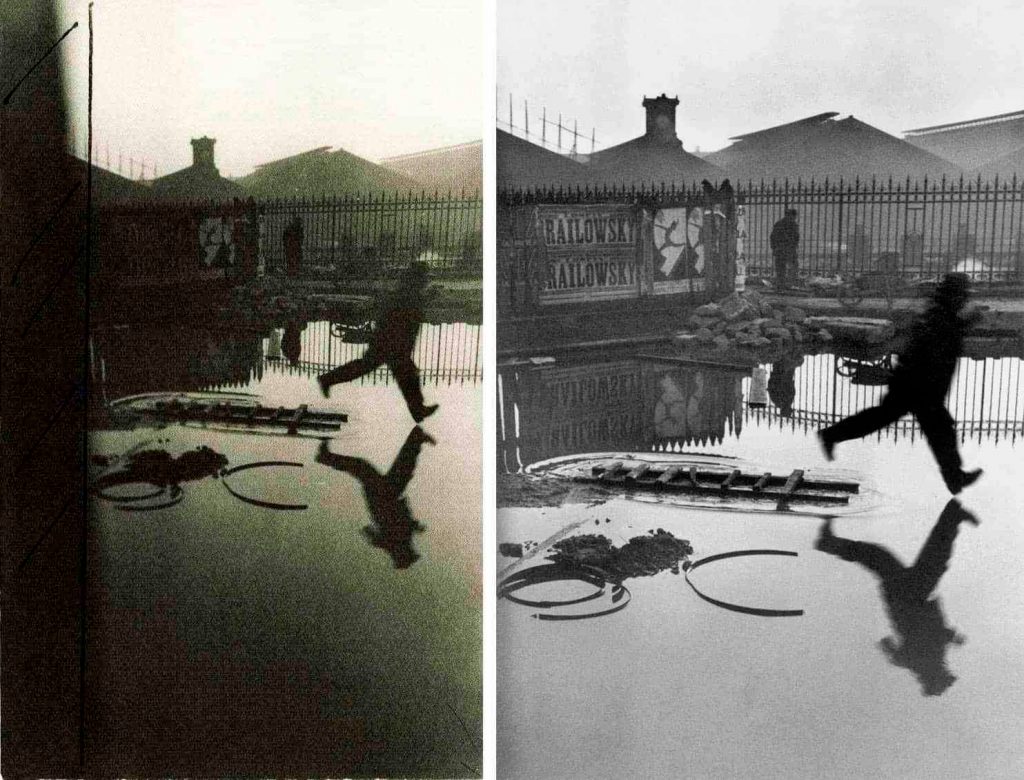 "There was a plank fence around some repairs behind the Gare Saint Lazare train station. I happened to be peeking through a gap in the fence with my camera at the moment the man jumped. The space between the planks was not entirely wide enough for my lens, which is the reason why the picture is cut off on the left."

Henri Cartier-Bresson
USE GUIDING LINES
When composing a photograph, you need to try to make it easy for the person is looking at it, to focus on the subject you are photographing.
One way to do that is to use lines that make you follow to come to the main subject of your photography. This technique can be used in landscapes with paths or in streets with bridges as an example. Keep your eye in the lines, to help your composition focus on what really matters.
PLAY AROUND WITH COMPOSITION
If you already read about the rule of thirds, you already will know it. Know the rules will help you, but break sometimes will increase the power of your photos: put the subject in the middle, on the side, at the top, etc. See what works with different angles!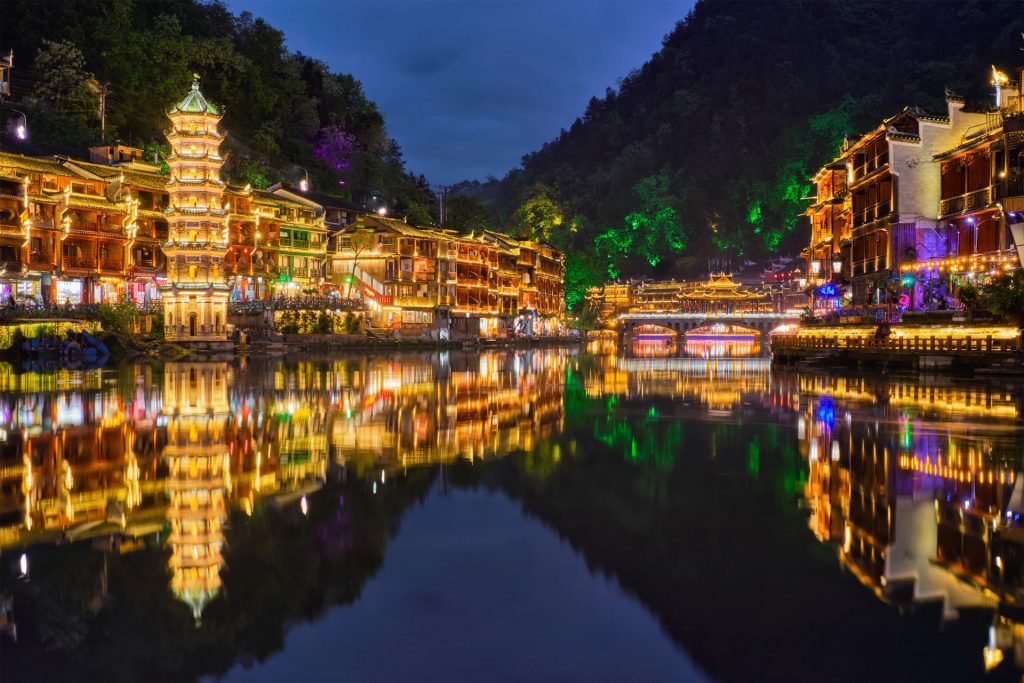 FILL THE FRAME AND USE THE FRAME
In all kinds of photography, maybe you hear about it. Just make your composition to show what it really matters and fill the frame to focus on it.
Also, you can use the real frames that you will find during your travels to focus on your subject. Objects such as windows are a perfect frame for your subjects. In landscapes, when the sky are complete clean, you can use the frame of a tree to close the view to your subject as in the example photo.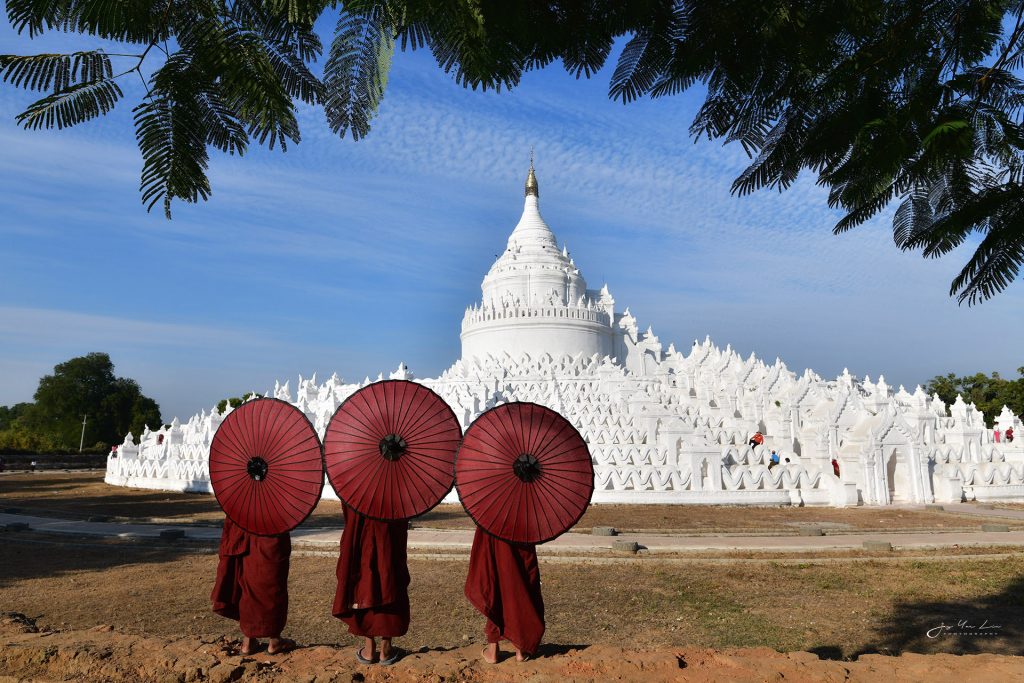 FOCAL POINTS
Another way to focus on your subject: use the aperture to blur the part of the image you are not interested to show.
USE DIFFERENT ANGLES
Look up in a cathedral. Put your camera on the floor or photograph from the top to above. Your photos will show a different perspective than usual photos.
USE YOUR EYES TO SEE DETAILS
When we travel usually we are looking to photograph the main buildings or landscapes, but don't miss the small details that you can find during your travel.
TAKE THE EYE FROM YOUR CAMERA…
One of the most important travel photography tips is to not be all your travel with your camera in your eye. Put it down, enjoy the travel and the place are you visiting. If you spend all your trip with the camera in your eye, you will come back home with millions of photographs that not will tell you anything.
…BUT KEEP IT CLOSE
Once you found something interesting, you must be able to take a photo, so keep your camera close. Travel to enjoy it and capture what matters. So once you come back home, you will remember the moments you lived. And in your memory card, you will have just the places that impress your eye.
EDIT YOUR PHOTOS TO EMPHASIZE THE BEAUTY
The edition is not retouching. One of the most important things in photography is to emphasize what your camera capture. Therefore, edit photos in Photoshop or Lightroom, can make your photos more powerful in an easy way.
Black
The edition is not retouching. One of the most important things in photography is to emphasize what your camera capture. Therefore, edit photos in Photoshop or Lightroom, can make your photos more powerful in an easy way.
Hope this post about travel and photography helps you!
Related Posts: