Check our Northern Lights Photo Tours & Workshops to capture the amazing phenomenon in our travels to the arctic. Select your favorite destiny and prepare to photograph the polar lights. Our photo tours are thinking for photographers of all levels, but also if you just want to live the experience you can join us. We have prepared a tour almost in all arctic regions where you can see the Northern Lights during the best season.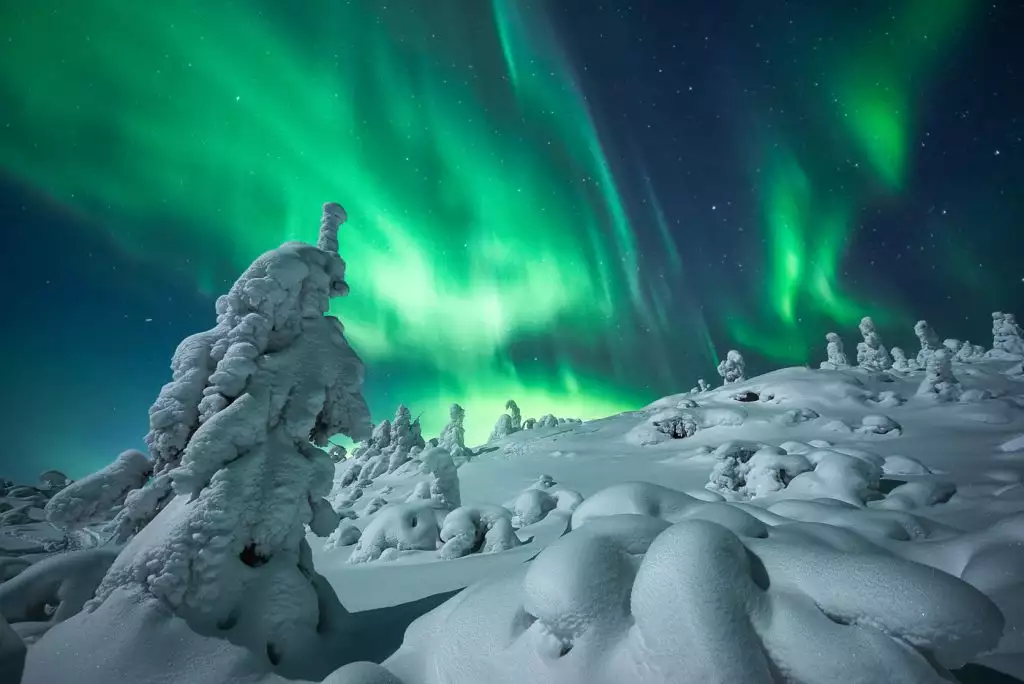 Northern Lights Photo Tours & Workshops
Our Aurora Photo Tours are limited to 6 participants per guide. It will maximize the time you can spend with a guide during the trip, so you can improve your abilities while enjoy seeing the Auroras. The photographer guides will be focus to teach you, so even if you are an amateur photographer these trips are for you.
During these tours, you will learn according to your knowledge improving your skills. It will ensure that you will come home with great pictures, and new knowledge to use in your future photographs.
Before each trip, we will give you a complete list of equipment you should bring. From clothes to camera gear, everything you will need during the trip to feel comfortable and enjoy the dance of the aurora borealis. If you do not have any equipment, we will guide you to buy or rent the necessary equipment for your trip.
Also, if you have doubts about which photo tour to choose, write to us before booking to guide you. Some tours require good physical fitness, but others, are easy for people that look comfortable conditions, but also great landscapes.
Iceland Ring Road Photo workshop
A road trip around the island to capture the most impressive spots in the nort like Goðafoss, Stuðlagil Canyon or Hvítserkur as example. But also all the necessary locations on South and West. A complete package to enjoy Iceland during autumn.
All our trips to Iceland starts at Rejkjavijk, and of course we offer extensions to visit other touristic points around the capital.
Lofoten Islands Photography Tours
Visit the most photogenic spots of Norway during Winter or Autumn. A week for searching auroras & learn from Leknes to locations as Hamnøy, Reine or Uttakleiv Beach as example. But also join our extension to Senja to capture breathtaking views of Northern Norway.
Lapland Photo Tour
Snow monsters, seascapes & waterfalls in the Russian Lapland. A week to capture Northern Lights in the Arctic with the best price and all meals included. Photograph the best spots around the Kola peninsula with our local guides.
The most cheap place to see Northern Lights and impressive landscapes, mades the Russian Lapland a perfect trip.
South Iceland Photography Workshop
Explore the highlights of Iceland during March. The perfect moment to find snowy landscapes in the most photogenic island of the world. 9 days where we will visit the Snaefellsnes peninsula, Stockness, Diamond Beach, the main waterfalls and the Golden Circle as example.
Yamal Photo Expedition
Did u dream to live with real arctic nomads? Our expedition to Yamal is a real adventure to live with the nenets reindeer herder. A perfect destination also to capture northern lights in this wilderness are of the North of Russia.
Upcoming travels to see Northern Lights
Tromsø
While Lofoten is the famous spot for photographers, Tromsø is the best place for typical tourist trips. The forest around the city, can be a great spot to capture Aurora Borealis and we will have a trip there soon.
Fairbanks, Alaska
Another great place and the most visited location for American photographers. The landscapes of Alaska are impressive and the wildlife unique. So if you add the experience to see green lights on the sky almost every night, makes Fairbanks a must-visit place for our next expedition.
Ivalo, Finland
We are also preparing a workshop in the Finnish Lapland. While the Russian Lapland offers us a cheap trip, Finland offers us similar landscapes but better accomodations. So, our next trip there will offer you luxury conditions to enjoy every moment.
Yellowknife & Yucon, Canada
Our guides are preparing a next expedition to the northern part of Canada. Remote landscapes and luxury accomodations for an exclusive trip to this hidden gem for most of the photographers.
FAQ
Starting Points
All our photo tours start at the airport of origin. We will be waiting for you at the same airport, where we will move with vehicles ready for the adventure. From the airport, you not will need to worry about anything.
Accommodations
The accommodations will be included in the price, and you will stay always that is possible in double rooms with private bathrooms in great hotels. When is not possible to find this kind of accommodations, we specified the conditions of the tour, and also offer you the possibility of individual rooms.