Japan enjoys a very long season of autumn colors, and here are our best places in Japan during autumn. From mid-September to December – around three months total, you can enjoy the vibrant colors of this season all around the country. While Japanese maple leaf is known for its red tint, other trees became yellow, orange, or brown.
Check our post about when to see autumn colors in Japan for the forecast on the region you are thinking to visit. We are sure you will enjoy your trip to Japan during this season! The weather in autumn is great and the country has a special atmosphere.
There really are no unfavorable places to enjoy the Momiji in Japan. From the big cities, where beautiful parks and streets turn into a show of colors to the amazing nature of the lost Japanese areas.
Here is our list of 10 best places to see autumn leaves in Japan during 2020 from South to North! As you can see, its different list as the best spots for sakura viewing.
What to visit in Japan during autumn
Daigo-Ji, Kyoto
Daigoji is a large temple complex at the southeast of Kyoto, designated as a world heritage site. Here you will enjoy the autumn colors from the bottom where is located the main temple to the several temple buildings around the mountain. A very nice hiking trails to enjoy the Momiji and photograph this area during autumn.
Estimated best viewing: Mid to late November
How to get there: From Kyoto Station, take a JR train to Yamashina Station (5 minutes, 190 yen) and transfer to the Tozai Subway Line (8 minutes, 260 yen) to Daigo Station. From here you will have 10 minutes walk to the entrance.
Eikando Temple, Kyoto
A place to enjoy the fall colors during the day, but also during the evening when the illumination gives to the gardens a beautiful atmosphere. Along all the park, you will find numerous temples and pagodas. This way, your visit during autumn will be a perfect moment to capture incredible photographs.
Estimated best viewing: Mid to late November
How to get there: From Kyoto Station (Kyoto Ekimae bus stop), take bus number 5 to Nanzen-ji Eikandodo bus stop. You can also take the Tozai line (not covered by the JR Pass¨) to Keage station, which is a 20-minute walk away from Eikando Temple.
Arashiyama, Kyoto
Our last spot in Kyoto (you can find many more places in the city) that we will recommend is the Arashiyama area. Here, you will enjoy the views of the mountains to small temples that during autumn get special colors. Another interesting option is to get a ride by boat at the Katsura River.
Estimated best viewing: Late November to early December
How to get there: Take the JR San-In or JR Sagano Line to Saga-Arashiyama Station. In 10 minutes walking, you can reach Katsura river.
Jingu Gaien Ginkgo Avenue, Tokyo
Filled of the ginkgo tree, is the official tree of Tokyo. You can find it all around Tokyo, but the most famous walk is on Ginkgo Avenue at Meiji-jingu Gaien Park. Enjoy the yellow colors of these trees during autumn to get amazing pics.
Estimated best viewing: Late November to early December
How to get there: The avenue is just 700 metres away from Shinanomachi Station, on the JR Chuo-Sobu line.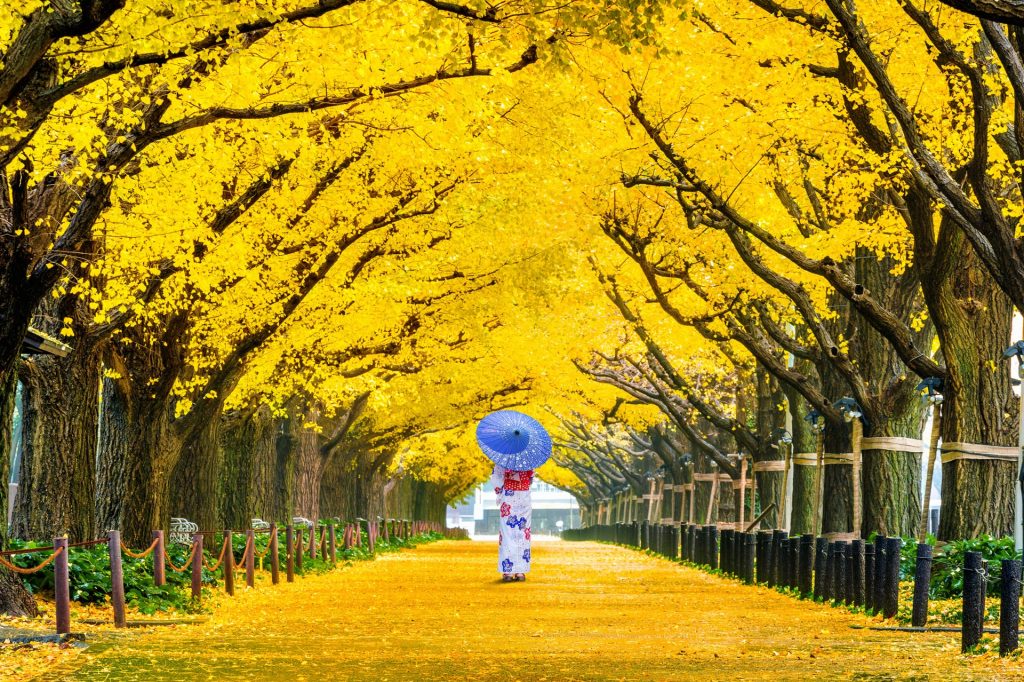 Rikugi Garden, Tokyo
Enjoy the Momiji even during the night at the Rikugi Garden. Also, the lakes along the park will reflect the autumn colors, offering you a perfect spot to capture beautiful photos. The entrance fee of ¥300, is a minimum charge for the show you will find here.
Estimated best viewing: Mid November to early December
How to get there: Walk 700 meters from the JR Komagome Station (Yamanote line).
Okunikko region, Nikko
Nikko is an indispensable visit during your travel to Japan in autumn. You can enjoy here the Japanese nature, and capture the Momiji during a long period because there is many different wide ranges from the mountains of the Okunikko region to the Nikko town area down in the valley.
If you arrive at early October, you will find in the high elevations. While if you visit in early November the best spots will be down the valley. Places like Lake Chuzenji or Ryuzu & Kegon Falls are a must-see visit in the area.
Estimated best viewing: Late September to early November
How to get there: We recommend visiting with a rental car, as you will find the best spots in the Okunikko region and there is no public transport.
Nara Park, Nara
Surrounded by beautiful temples and landmarks, this park offers you also the experience to photograph the deers that live in the area. The yellow colors during autumn will make your visit to Nara a unique experience that you can't miss if you visit Kyoto & Osaka.
Don't miss the visit to Todaiji Temple & Kasura Taisha. The first one is considered the world's largest wooden building and is surrounded by many maple trees. The second one is decorated with thousands of stone lanterns and big trees that during autumn offer the best pics.
Estimated best viewing: Mid November through late November.
How to get to Nara Park: From Kintetsu Nara Station walk around 5 minutes, or from JR Nara Station about a 20 minutes walk.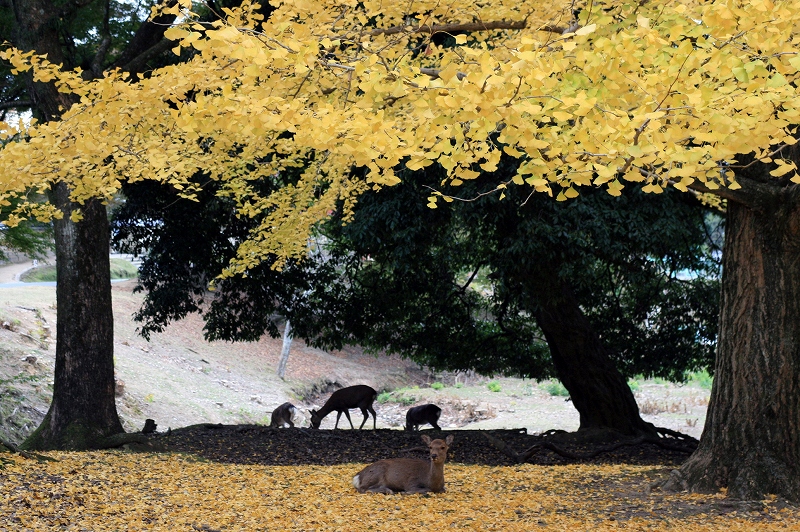 Fuji Five Lakes
Enjoy the Momiji at Mt. Fuji is a must during your Japan travel in autumn. Lake Kawaguchiko offers you a perfect spots to frame this famous mountain with red leaves. Also in the area you can find few historical villages to complete your visit to Mt. Fuji.
Estimated best viewing: Late October to mid November.
How to get to Lake Kawaguchiko: Take the Fujikyu Railway from Otsuki Station at Tokyo (JR Chuo line) to Kawaguchiko Station. You also can reach by bus from Tokyo, Kofu, and Gotemba.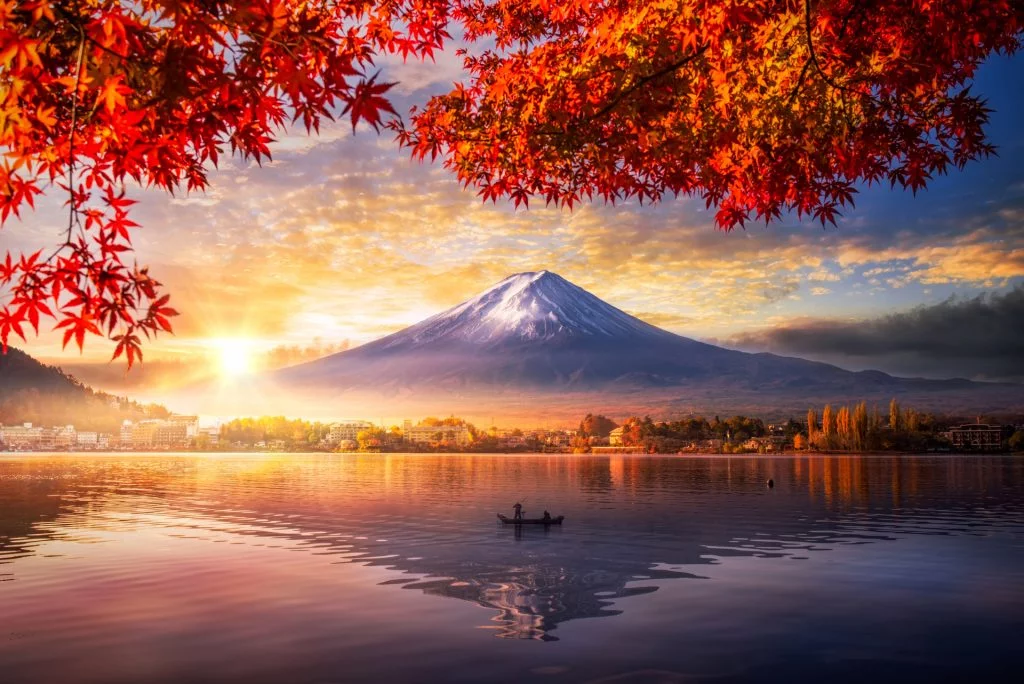 Oirase Stream, Aomori
If you are looking to find places in northeast Japan, we suggest you visit the Oirase Stream & Lake Towada. The largest crater lake in Japan & located in Aomori Prefecture will offer you beautiful hiking to photograph many waterfalls and scenic rapid in the forest.
Estimated best viewing: mid to late October.
How to get to Oirase Stream: Take the JR bus from Aomori or Hachinohe stations. From there, you'll take the bus bound for Towada-ko. Get off at Yakeyama. Once there, you can easily walk to the trailhead for the Oirase Stream.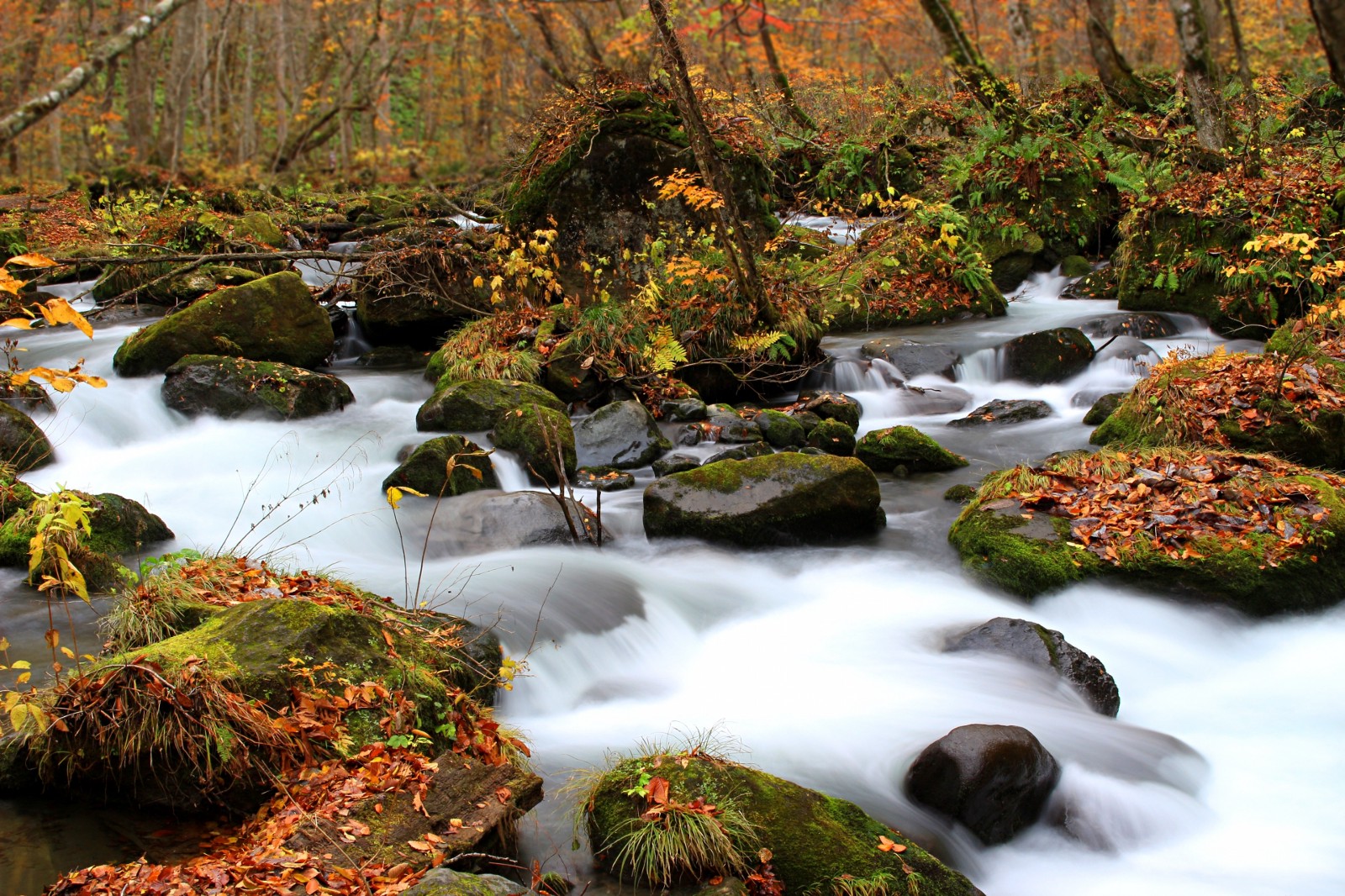 Daisetsuzan National Park, Hokkaido
Another interesting hiking destination in the north is the Daisetsuzan National Park. Hokkaido will be the first place all around Japan where autumn colors will appear. Also, the unspoiled nature of the area makes this area a great spot for nature lovers.
Estimated best viewing: mid September to mid October.
How to get to Daisetsuzan National Park: Renting a car is the best way to see this National park.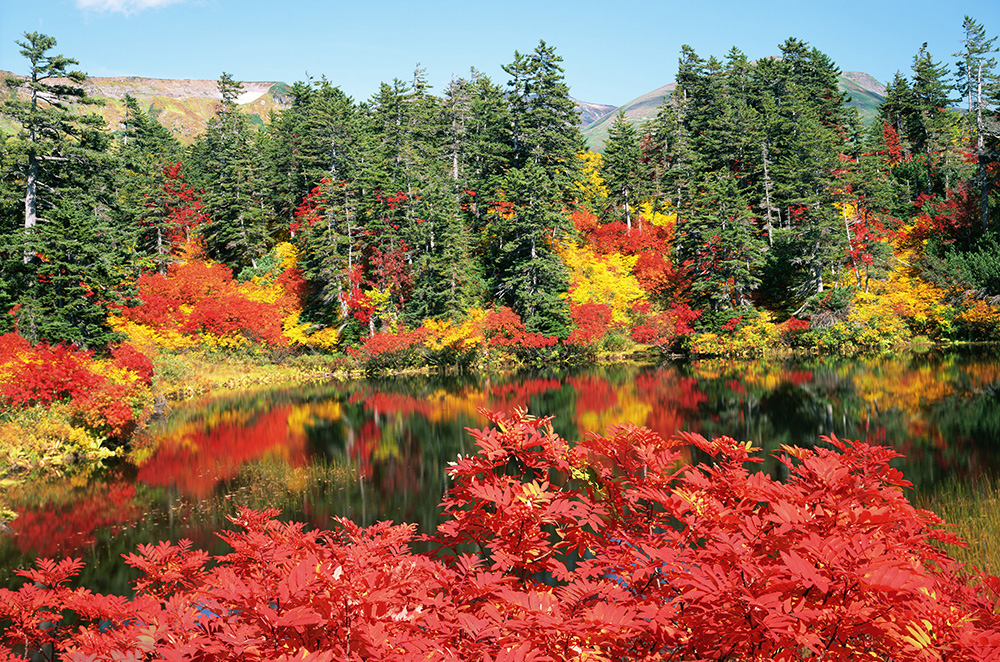 Our prediction of the best months to see autumn colors is based on weather patterns. Read our forecast for 2020 to get updates about the forecast for 2020. The autumn leaves may begin a few days to a few weeks early if the weather is cool, or they can occur late if it is unusually warm.
Write a comment if you already some of this places or write your best places in japan during autumn.