Choose the best places in Japan to see the cherry blossom is a really difficult task. The full country is plenty of big and small places where you can really live a unique experience. But even more difficult is to choose the correct data to see the sakura trees in full bloom. This way we recommend you to read our post about it, when you know which places you want to visit.
The country during the peak of the blooming seasons is full of festivals, and people go out for a picnic to any place around the country. As during autumn, Japan doesn't have a place where you not will enjoy it.
Here is our list of 10 best places to see cherry blossom in Japan during 2021 from South to North!
Best Sakura locations
Nakameguro, Tokyo
Nakameguro is considered one of the best neighborhoods in Tokyo to enjoy the sakura. The canal that crosses the district, is covered during this season by a line of more than 800 cherry trees. During Nakameguro Sakura Festival at night, are illuminated creating a magical atmosphere. Your visit to Tokyo not will be completed if you don't visit this canal during the evening!
Estimated best viewing: The festival is planned from March 23th to April 10th
How to get there: Get off at Nakameguro Station on the Toyoko Line and Hibiya Line. The area is also a short walk from Daikanyama Station.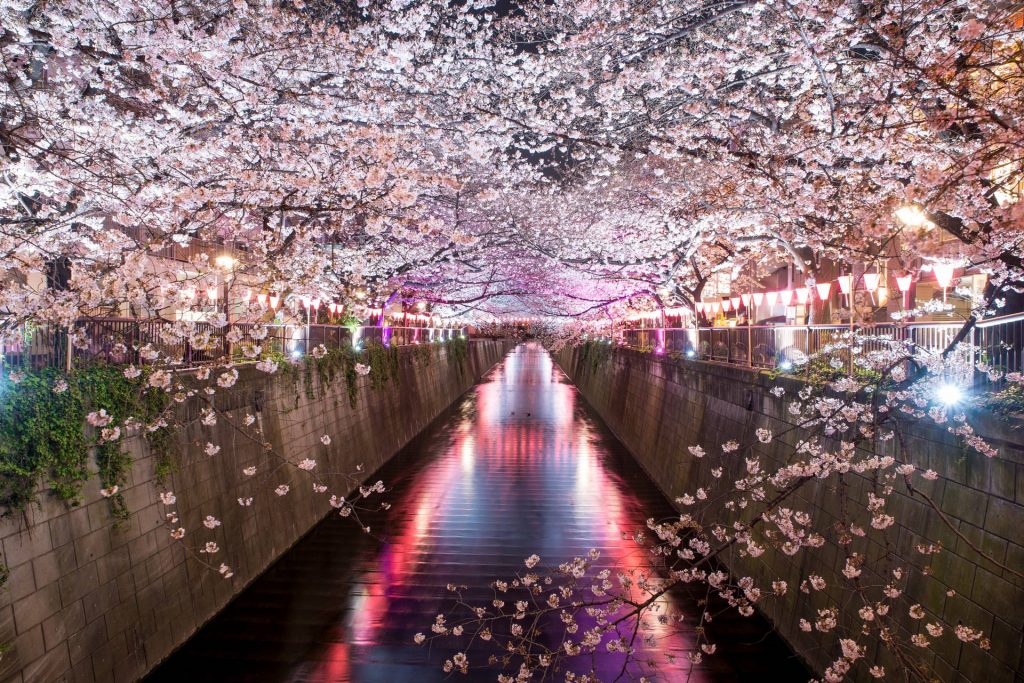 Shinjuku Gyoen, Tokyo
We could say that this park is a must-visit during your spring travel to Tokyo for several reasons. First, have thousand of cherry trees in the middle of Tokyo. Second, it's a perfect place both to go late or early during the blooming season. Third, is located only ten-minute walking from Shinjuku Station, one of the main train stations in Tokyo.
Estimated best viewing: Mid March to early April
How to get there: The park is just 10 minutes' walk from Shinjuku Station.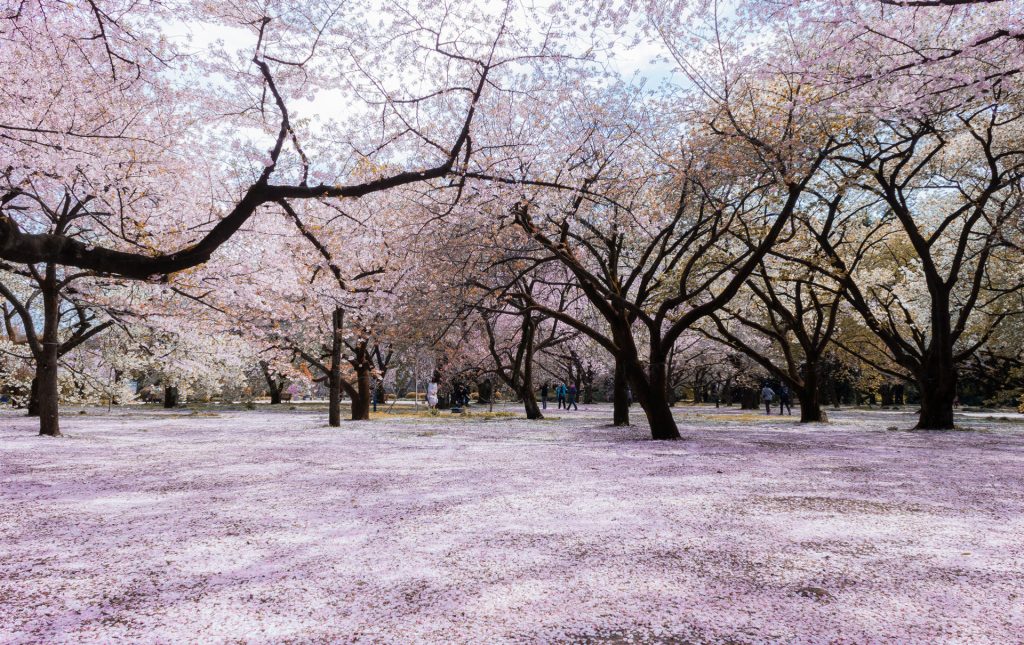 Chureito Pagoda, Fuji Five Lakes
Probably the most famous location for photographers all around the world in Japan. Chureito Pagoda offers the perfect view during the Sakura with Mt Fuji in the background. Anyway, tripods are not allowed to use for no logical reason… but there is always a way to avoid this problem 🤫 Visit during the morning, as probably during sunset the place will be full of tourists and it not will be so easy to get the photo you are looking for.
Estimated best viewing: From late March to mid April
How to get there: Chureito Pagoda is 20 minutes' walk from Shimo-Yoshida Station.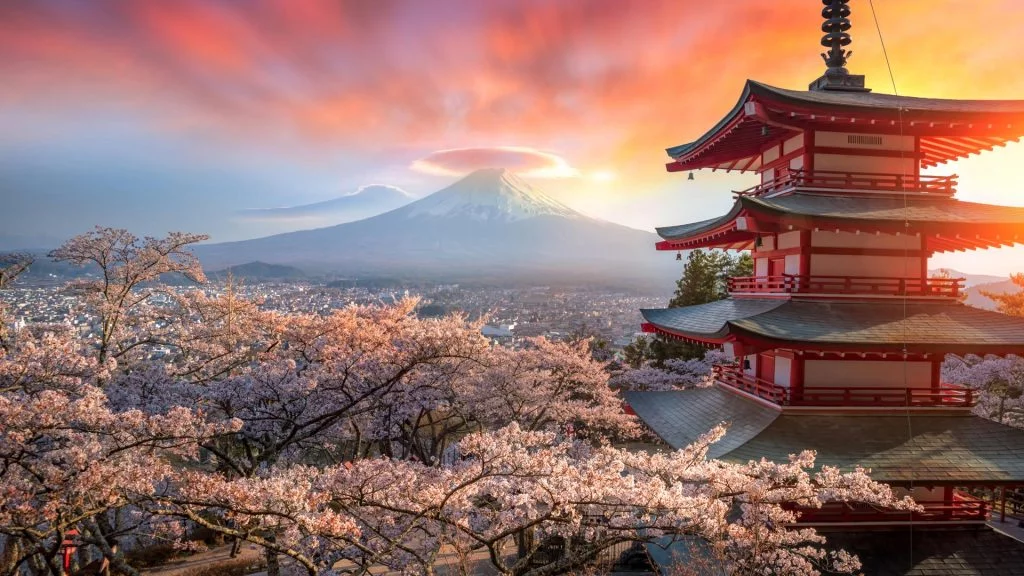 Philosopher's Path, Kyoto
This 2-kilometer path is one of the most beautiful spots in Kyoto. During all the way following the canal, you will be cover by hundreds of cherry trees in the middle of Kyoto. The Philosopher's Path became famous thanks to Nishida Kitaro, a Japanese philosopher, that used to walk and practice meditation in this path.
Estimated best viewing: Late March to mid April
How to get there: Get off at Miyanomaecho subway station. It takes around 30 minutes to walk around.
Expo 70 Commemorative Park, Osaka
More than 5,000 cherry trees fill park, doing this spot one of the most populate all around Japan. Constructed for the 1970 World Exhibition and located in the north of Osaka, here you will enjoy since the architecture of the Exhibition to Japanese gardens.
Estimated best viewing: Late March to mid April
How to get there: Take the Osaka Monorail to Banpaku Kinen Koen Station.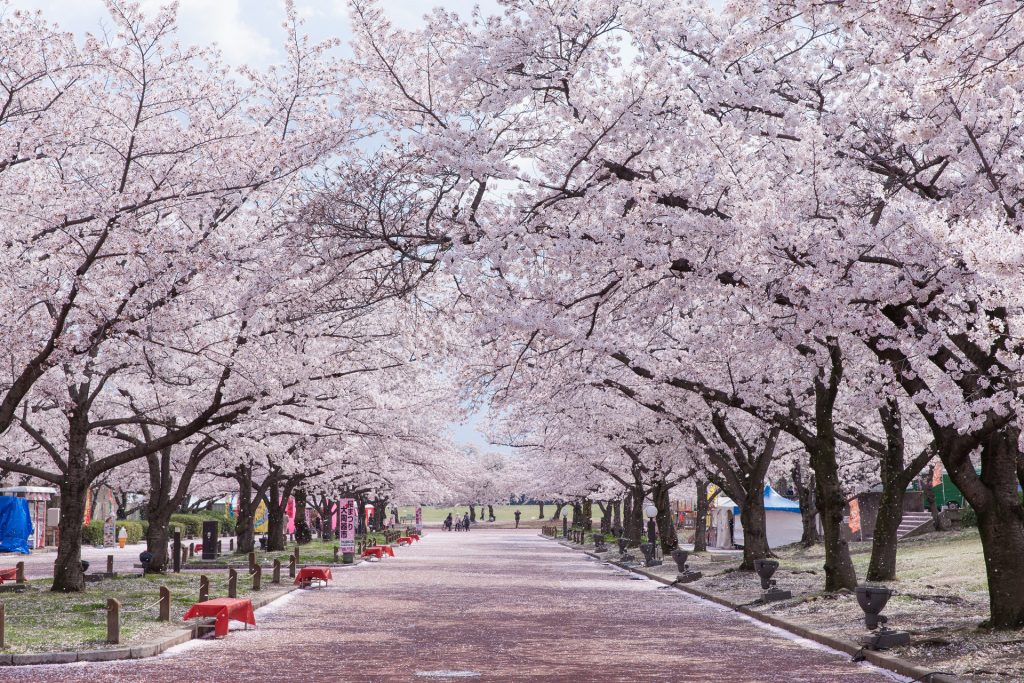 Kumamoto Castle, Kumamoto
Located in Kumamoto city is one of the three best castles in Japan. Like other castles in Japan, its surrounded by hundreds of cherry trees that during the full bloom create an impressive contrast with the black exterior. It was built around 400 years ago, and the grand figure of the castle's black exterior is truly impressive.
Estimated best viewing: Late March to early April
How to get there: From JR Kumamoto Station, get off at Kumamotojo-mae tram stop. From Kumamoto Station to the castle is about 30 minutes walking.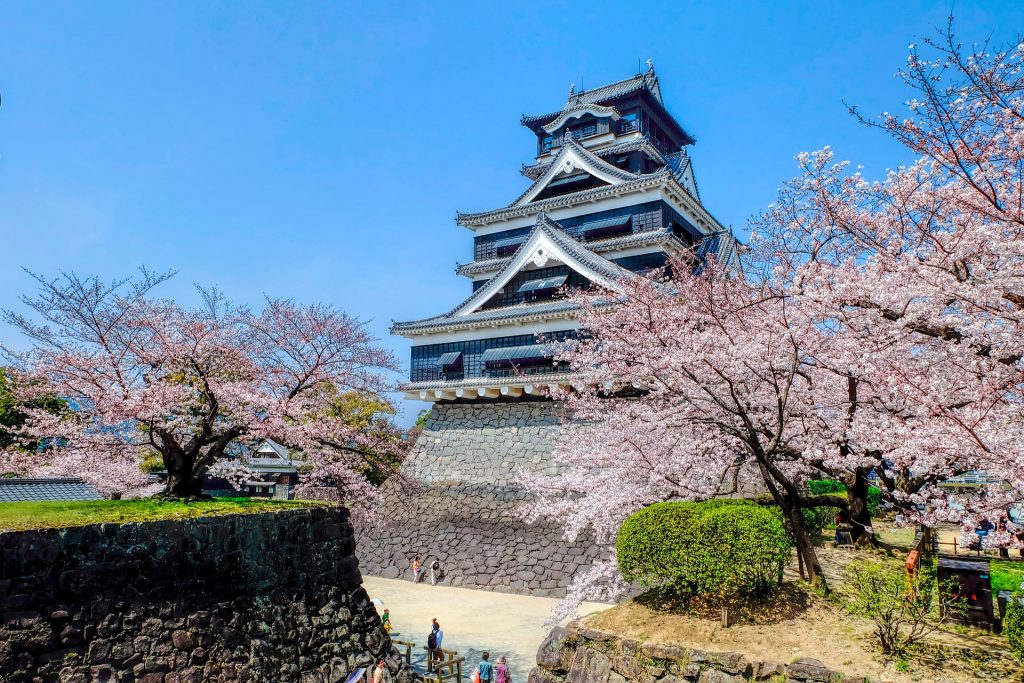 Mount Yoshino (Nara)
Mount Yoshino is the historical place to view the cherry blossom. The first cherry trees were planted over 1300 years ago, and now you will find over 30,000 in the area. The shrines, temples, and parks in Mount Yoshino help this place to create a picturesque view that you can't miss in your trip to Japan during spring.
Estimated best viewing: Late March to early May
How to get there: Take a shuttle bus to visit the area, they run between Yoshino Station and the Naka Senbon area.
Matsugasaki Park, Yamagata
Matsugasaki Park, located in Yonezawa, Yamagata prefecture, is a park built on the former site of Yonezawa Castle. 200 sakura trees surrounding the moat bloom in spring, attracting many visitors. The reflection of the cherry blossoms on the moat surface, and the petals floating on it, is truly a sight to behold.
Estimated best viewing: From mid- to late April.
How to get there: Get off at JR Yonezawa Station, from here is only 10 minutes walking.
Mifuneyama Rakuen Park, Saga
Here you not will also enjoy the sakura trees illuminated in the nighttime, also you will find over 20,000 azaleas. The Mifuneyama Rakuen (The Paradise of Mt. Mifune), located in Takeo, is not only one of the best places in Japan to see cherry blossom, but also you can enjoy all seasonal changes in the scenery. If you are looking to capture dreamy photos, you must visit this incredible park.
Estimated best viewing: Around late March to early April
How to get there: You can take a bus at Takeo-Onsen Station on the JR Sasebo Line, get off at Mifuneyama Rakuen stop, and walk for a minute. Or you can just take a 5 minutes taxi from the station.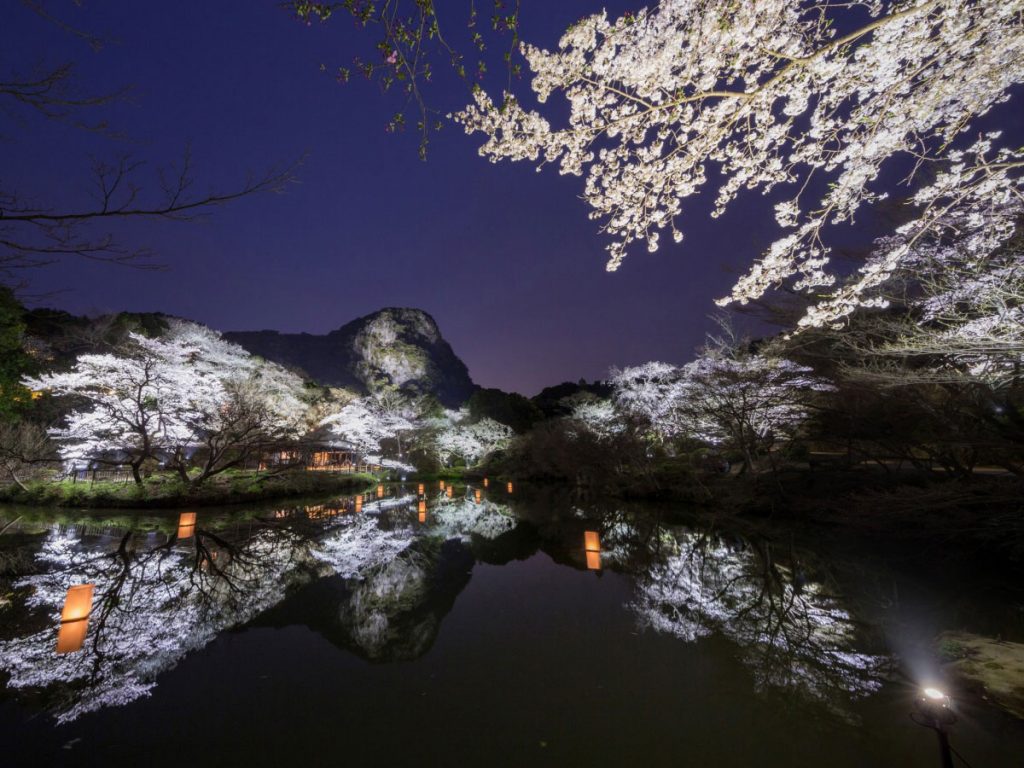 Hikone Castle, Hikone
Another castle to finish our list… parks are great spots to enjoy the sakura, but castles will give you the perfect photo to capture the essence of this phenomenon. Located close to Kyoto and Nagano, is a must-visit if you arrive in the early April to Japan.
Estimated best viewing: Late March to early April
How to get there: The castle is located just 10 minutes walking from the train station.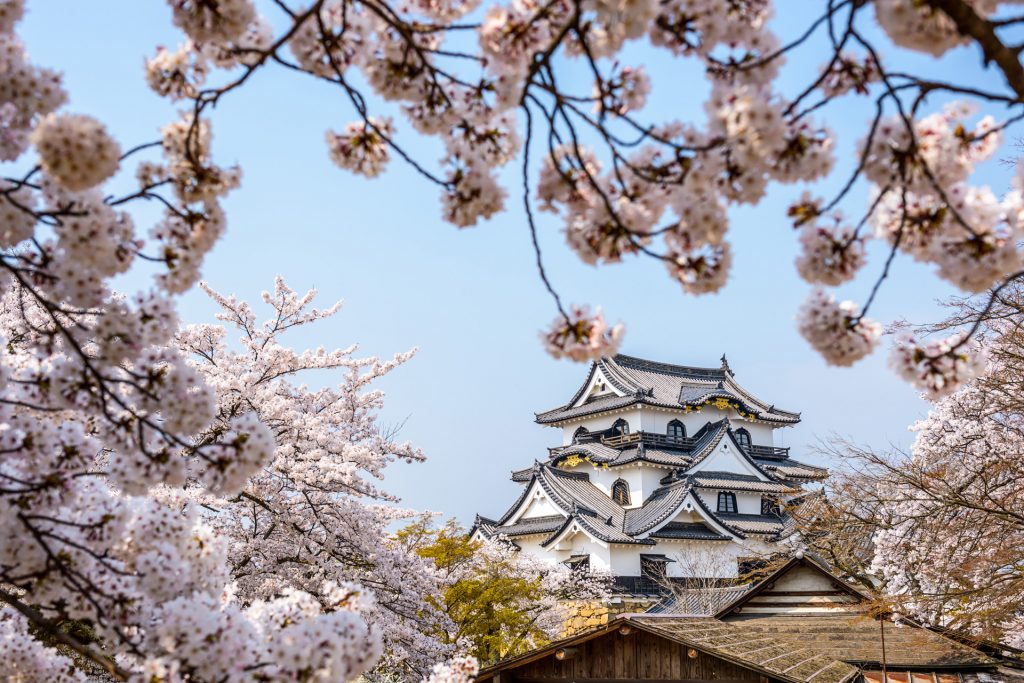 As we say at the start of the post, there is no wrong place in Japan to enjoy the sakura. This list represents a great spots for photographers, but if you are going to visit a certain area, you will find hundreds of beauty spots.
As we wanted to make a short list we couldnt include places as Himeji, Osaka, Matsumoto, Takato or parks as Nishiyama, Takada or Suzuka as example. Without mention all places in Tokyo & Kyoto that during the cherry blossom looks amazing.
Check out our map with our 10 best spots in Japan to see sakura, and some of these other spots with didn't include in this list.
Remember to check the forecast for 2021, and plan your travel to Japan in the right data. Chose one of our best spots in Japan to see cherry blossom, and enjoy one of the most amazing countries in the world.
Also, if you want to join us, we prepare a photo tour during this season. During this travel, you will also visit other amazing locations around the country. Our tours to Japan are always small groups, so you will be accompanied by professional guides close to you all the time.